7 Best Places Proposal in Athens
Surprise Wedding Proposal in Athens
Surprise Wedding Proposal in Athens | 7 Best Proposal Places  in Athens
Surprise Proposal in Athens Photographer
If you are looking for a photographer to make a surprise wedding proposal in Athens and you like my work,
I will be more than happy to help in the organization and capture your special moment.
So that moment was a surprisingly unique experience for both of you.
Whenever a question of availability for a marriage proposal comes up, I am very excited!
Because I remember my feelings when I knelt to ask the big question, "Will you marry me?" 14 years ago.
I am grateful that a happy family with three children emerged from this proposal.
I always see these feelings in the wedding proposal scene in couples who choose and trust me.
I consider it the top personal moment in a couple's life.
It is the big bang of the couple's universe of love and romance. The beginning of everything!
Do not forget that here, according to Greek mythology, a winged God of love and desire was born in Greece, Eros.
These results in your proposal being delightful and passionate from Greek God Eros!
The Greek God of love guarantees that no one can refuse your surprise wedding proposal!
Are you looking for a surprise wedding proposal in Athens, Greece? Let's connect, and so the adventure begins!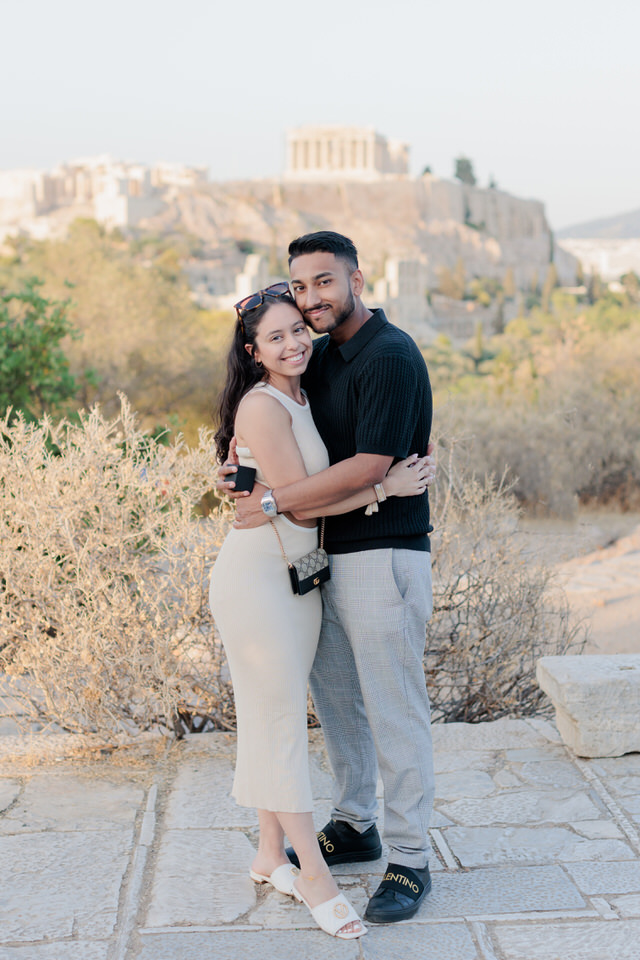 Athens Photoshoot Photographer
Athens is the place where I live, so if you are planning to make your wedding proposal in Athens,
then I know all the perfect locations where you can keep your unforgettable moment.
The historical-cultural triangle around the Αcropolis, such as Anafiotika, Plaka, or Areopagitou, is an ideal place.
I also work with professional saxophonists, violinists, and guitarists who can add and take your surprise to the next level.
Your loved one will not suspect it because it is common for musicians to play on the main street in this area.
But we can arrange the surprise in a more secluded romantic spot without many people.
Imagine in the time, and at a point where we have agreed, a guitarist will already play your favorite song, a fairy-tale proposal.
Are you looking for a photographer in Athens, Greece? Let's connect, and so the adventure begins!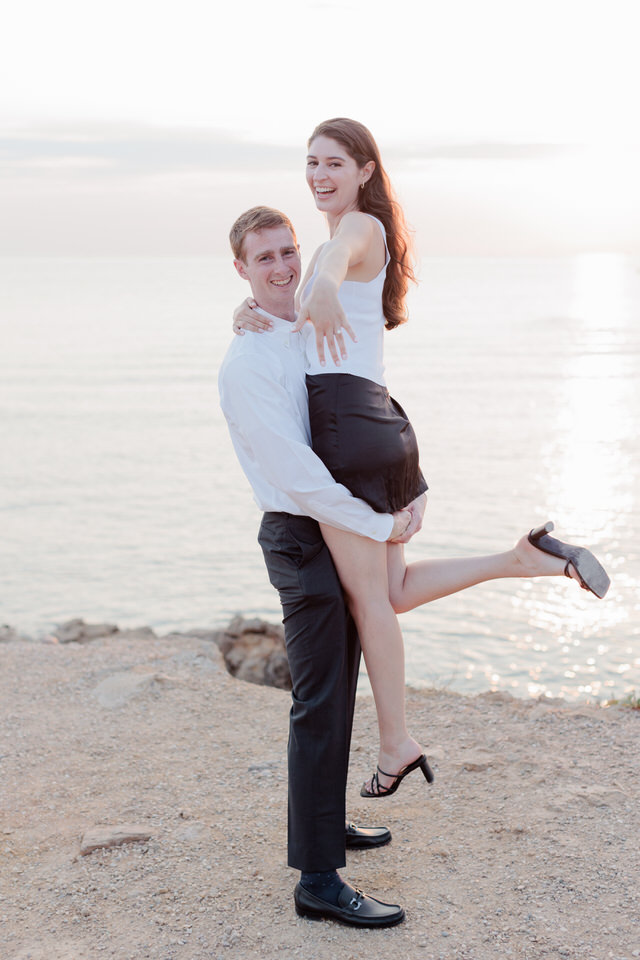 Athens Honeymoon Photographer
Greece is among the top 3 destinations globally for couples who organize their honeymoon.
Athens is especially an ideal destination for newlyweds all year round.
The perfect Mediterranean weather, the crystal clear sky, the warm hospitality,
and the tasty traditional Greek cuisine contribute to this.
Living in Athens is much cheaper than living in London or Paris.
You can find affordable prices for everything. Most hotels offer attractive rates for off-summer periods.
Probably better due to less overcrowding, lower prices, and less heat than in summer exceeding 40 degrees.
We can have a photo session for your honeymoon in Athens in the morning or the afternoon.
For example, let's start with the sunrise in the center of Athens on the street of Aeropagitou.
Areopagitou is a paved road with beautiful neoclassical houses and the Acropolis Museum.
Then go to the ancient theater Herodeion and end up in the picturesque streets of Anafiotika and Plaka.
We can do a honeymoon photoshoot almost any time of the day.
But to have the best possible result with soft natural light, I recommend early in the morning or 1-2 hours before sunset.
Together we will schedule a date that suits your needs and preferences.
Finally, we will set up a meeting point easily accessible in Athens.
The honeymoon session can last from one to two hours.
However, it may take three or four hours if you choose two remote points.
For example, a photo shoot in the historic center of Athens and another on the Athenian Riviera.
Are you looking for an Athens Honeymoon Photographer? Let's connect, and so the adventure begins!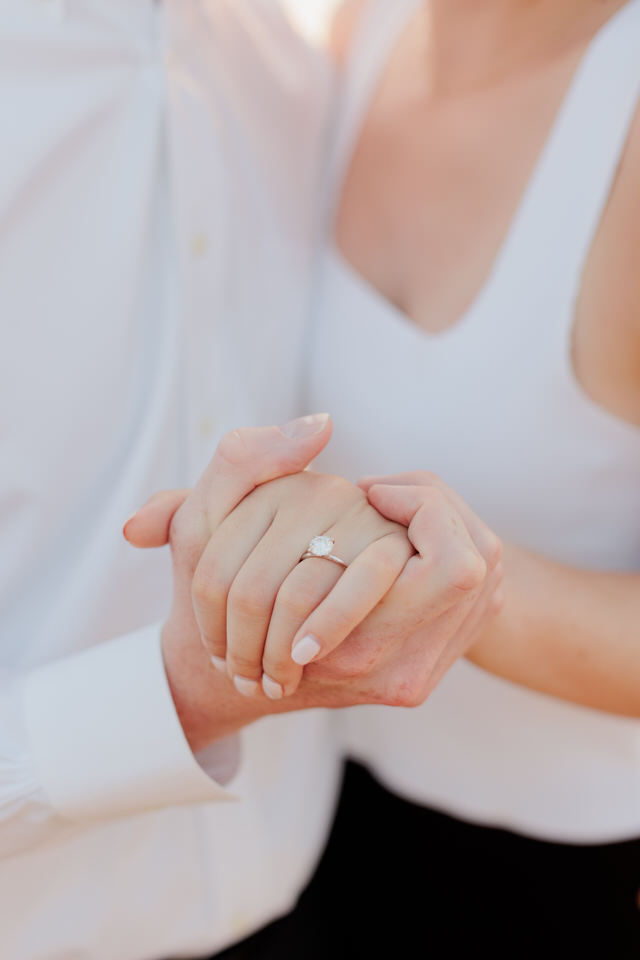 Same-Sex Honeymoon in Athens Photographer
Athens is one of the leading European countries in terms of LGBT rights.
There are many photo opportunities in Athens for same-sex couples.
If you are interested in honeymoon or engagement photo packages, get in touch, so the adventure begins!
Are you getting married in Greece?
Finding the right destination wedding photographer in Greece is a feeling.
When you find it, there is no reason to hold back.
From the moment you booked me up to your last image delivered, you have my full undivided attention, energy, and care.
Please write me an e-mail via the form, or send me an e-mail directly at info@ignatioskourouvasilis.com.
I would love to answer any questions and hear your plans for your special day!
Sounio Engagement Photographer & Athens Engagement Photographer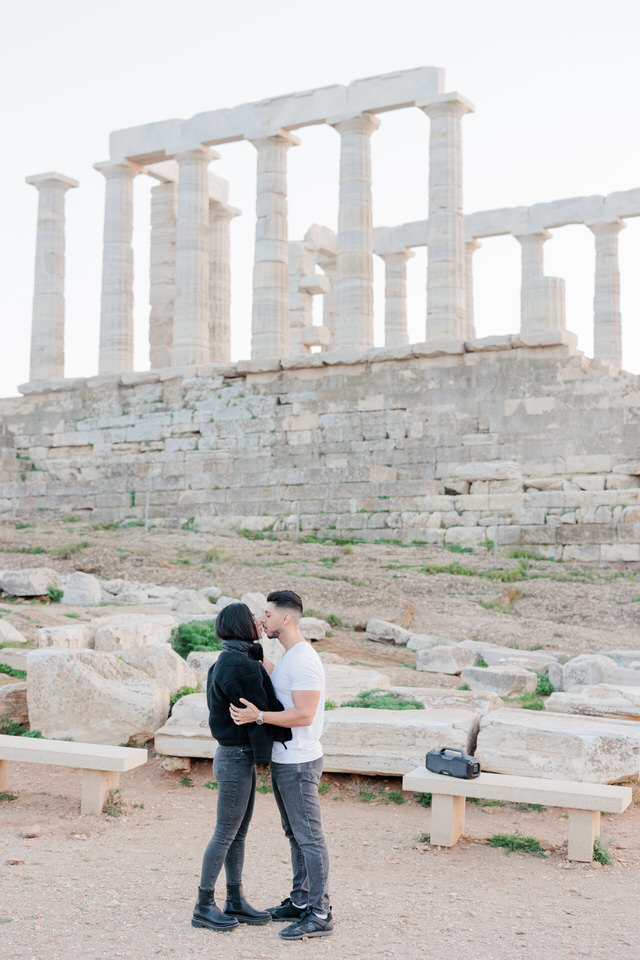 FAQ & How did I work
First time in Greece. Where can I make a marriage proposal photoshoot?
I will provide you with information about several places in Athens to choose the best one for your needs. Also, I will help you plan all details, offer advice regarding what to wear, how to arrive with a map details pic, and where to stand to get the best of the proposal.
What exactly is the procedure we will follow on the day of the proposal?
I will be at the suggested spot 25 minutes earlier. I capture some photos of you arriving, the actual proposal, the engagement ring, and your portraits.
When will I receive my photos and how?
After 3 to 5 working days from the proposal, you receive a link from an online private gallery where you can download all photos edited in high resolution. Also, you can easily share them via email, Viber, Fb, Ig, etc., with your families and friends.
I will do my best to send you the next day a sneak peek.
Can you hold my proposal day?
Im sorry, but I cant hold a date without a retainer. I accept bookings on a first-come/first-served basis.
How many photos will we receive?
The number of photographs taken depends on the coverage time. For one hour, estimate 60 pics.
Can you arrange the videography for our proposal?
I can suggest videographers/cinematographers I have worked with, and I trust them. Also, professional saxophonists, violinists, and guitarists are available to serve as an add-on.
Do you travel for a destination wedding proposal in Santorini
I'm always happy to travel to every Greek island. The price for destination proposal photography includes coverage fees, plus my travel expenses made known to the client from the very beginning.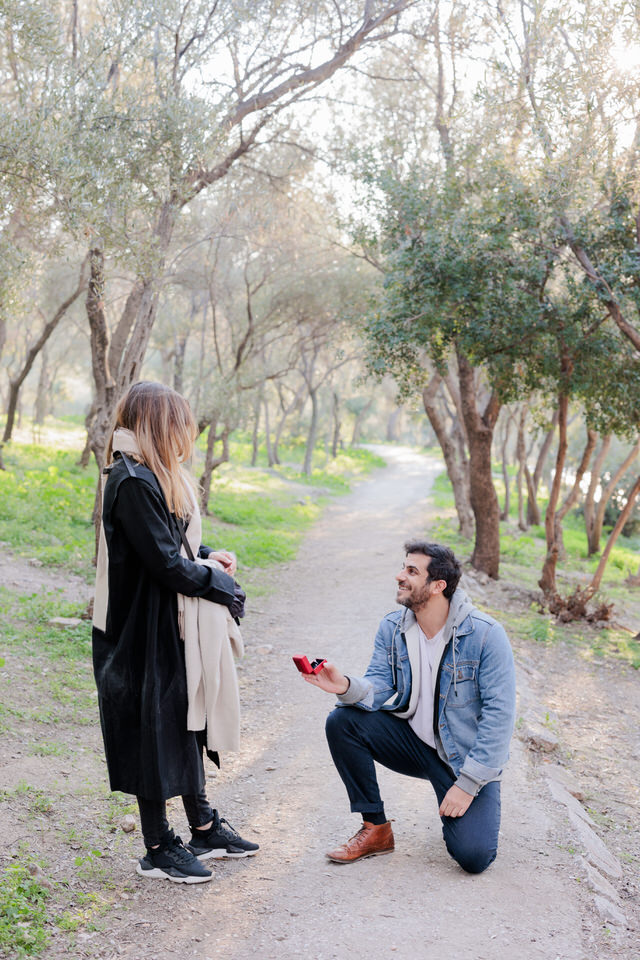 The 7 Best Proposal Places in Athens
1. Lycabettus Hill link
Located at the city's heart, Lycabettus Hill is one of Athens's best spots. Lycabettus Hill offers stunning panoramic views and a perfect sunset over the city.
If you're thinking of proposing under the stars, I know precisely the spot so that you will feel as if you're floating over a sea of city lights! Awesome!
2. Anafiotika link
Anafiotika is the oldest neighborhood of Athens, with a unique romantic character. Ιf you want to avoid many people, this is the place.
Beautiful tiny coloring houses, narrow alleys, traditional tavernas, and little coffee places give you the feeling of being on the Cycladic islands!
3. Filopappou Hill link
Located southwest of the Acropolis, Filopappou Hill is one of Athens's most impressive green spots.
Arriving at the top, the inspiring views of the Acropolis will cite you. Add a special drink, and you are ready!
4. The Acropolis link
The Acropolis is one of Greece's most essential and valuable ancient sites.
If you want your proposal in Greece to be unforgettable, the Acropolis of Parthenon is the place.
5. Cape Sounion link
Cape Sounion is a seaside location and one hour drive south of Athens. It is breathtaking and worth the movement across the Athenian Riviera.
At its highest point stands the Ancient Temple of Poseidon, God of the sea.  The Temple completed: in c. 444–440 BC.
You can see one of the best sunsets in Greece with warm colors. Wedding proposal with a trademark from Poseidon!
6. Areopagus Hill link
I think the best location and most popular to make your proposal is Aeropagus Hill in Athens, Greece.
A fantastic spot with a breathtaking view of the city of Athens, the Acropolis, Plaka, Monastiraki, Anafiotika, and Lycabettus.
7. Four Seasons  Astir Palace Athens Greece link
Make the grandest romantic proposal by arranging a spectacular dinner for two at Four Seasons.
The seafront location provides complete privacy and an unforgettable sunset experience.
You can enjoy a personalized menu featuring fresh, seasonal, and locally sourced produce.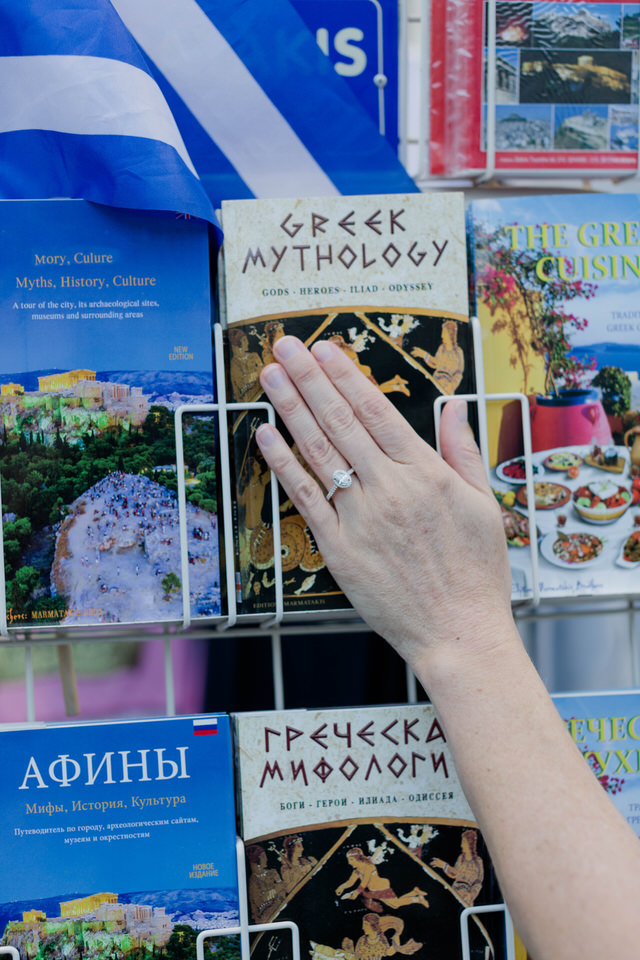 Conclusion
A wedding proposal in Greece will be absolutely a unique experience! Whichever place you choose, you can not go wrong.
The city of Athens, the Athenian Riviera, or the Greek islands such as Santorini, Mykonos, and Paros are amazing to propose.
You deserve only the best, and Greece can give you outstanding moments and incredible feelings.
So, if you have planned a surprise wedding proposal in Athens and Greece, it will be a great honor for me to be part of your special day.
Please email me via the form, send me an e-mail directly to inquire about availability and pricing, or share your story.