Spectacular Dinner for Two in Athens
Engagement Proposal Four Seasons Athens
Engagement Proposal Four Seasons  Astir Palace Athens Greece Spectacular Dinner for Two in Athens
Are you looking for a spectacular dinner for two in Athens and a surprise engagement proposal spot?
If you try to book a fancy restaurant serving delicious cuisine in a majestic seafront location,
only for two, and you want to propose to your mate, some things may not turn out as you would like.
But let's start from the beginning.
Our protagonist is Rashid from Lebanon, and this is his story.
Rashid & Jeniffer is a fantastic couple foul in love.
When they came from Lebanon for a few days in Athens, Rashid emailed me with a specific request.
To cover as a photographer in Greece the surprise marriage proposal he would make to his beloved.
And while he asked to do it in a famous restaurant on the Athenian Riviera, this was impossible.
Like most, their policy does not allow professional coverage for special occasions for two.
A surprise marriage proposal would disturb the peace of the attendees, as they said.
They let him have only a petite bouquet on the table and are harmful to a piece of special music
during the proposal or specifying lighting with candles all around the table.
It might sound reasonable not to disturb your customers' peace.
But how Rashid captures the wanted YES-I-DO as his dream? The disappointment was near for him.
I suggested alternatives outside locations, but he had imagined it differently. And he did very well.
After three days of searching by both of us, we ended up at the top location, and I will share it with you.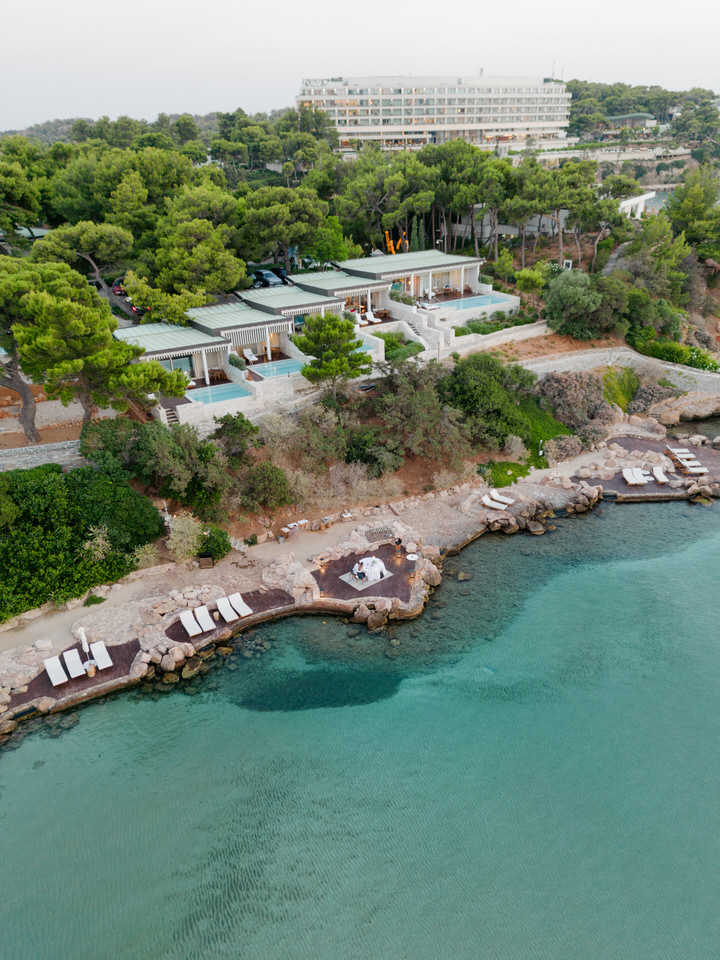 Suppose you want the ultimate wedding proposal and a spectacular dinner for two,
with the highest level of service, and a magical dinner in a private seafront area.
In that case, this is the absolute destination.
And it's called the "Four Seasons Astir Palace Hotel Athens" in Vouliagmeni.
Its location and quality are unique throughout Europe for a city hotel.
And made it one of the best luxury hotels in the world.
Surrounding the hotel is the Saronic Sea, which gives you the feeling of being on a Greek island.
The blue and clear waters of the Saronic, together with the excellent service,
will satisfy even the most demanding customer!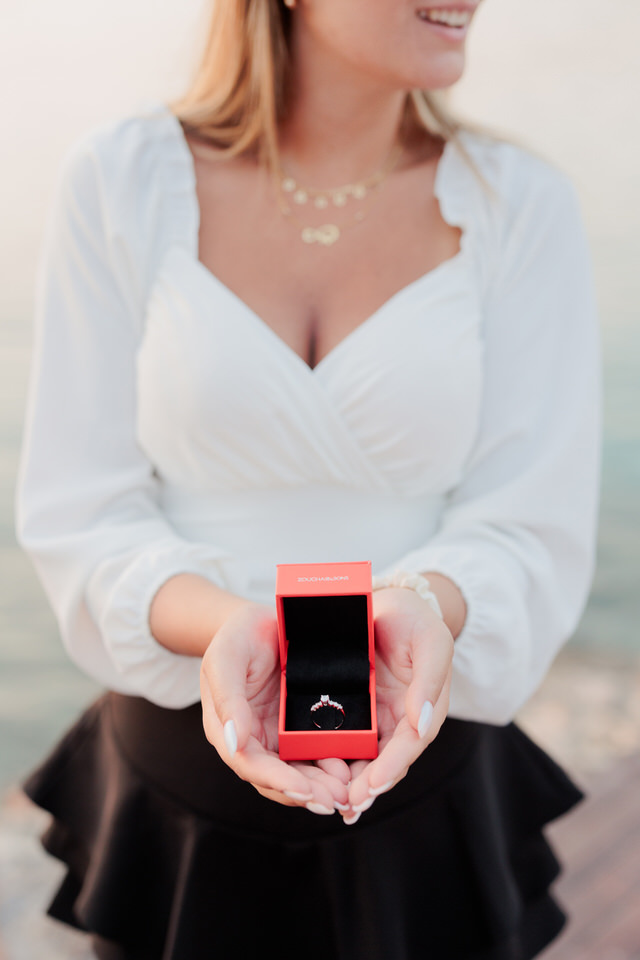 All accommodations and restaurants are located almost by the sea.
It is an incredible place for all fantastic holidays but also unique events!!!
It is very close to Athens and the archaeological sites, which is a considerable advantage.
Allows visitors to combine excellent holidays and visits to archaeological sites.
The most important for our case is the Zolotas Private Beach.
Impress your loved one with a grand romantic gesture by planning a stunning dinner for two.
This seafront location provides complete privacy and an unforgettable sunset experience.
You can enjoy a personalized menu featuring fresh, seasonal, and locally sourced produce.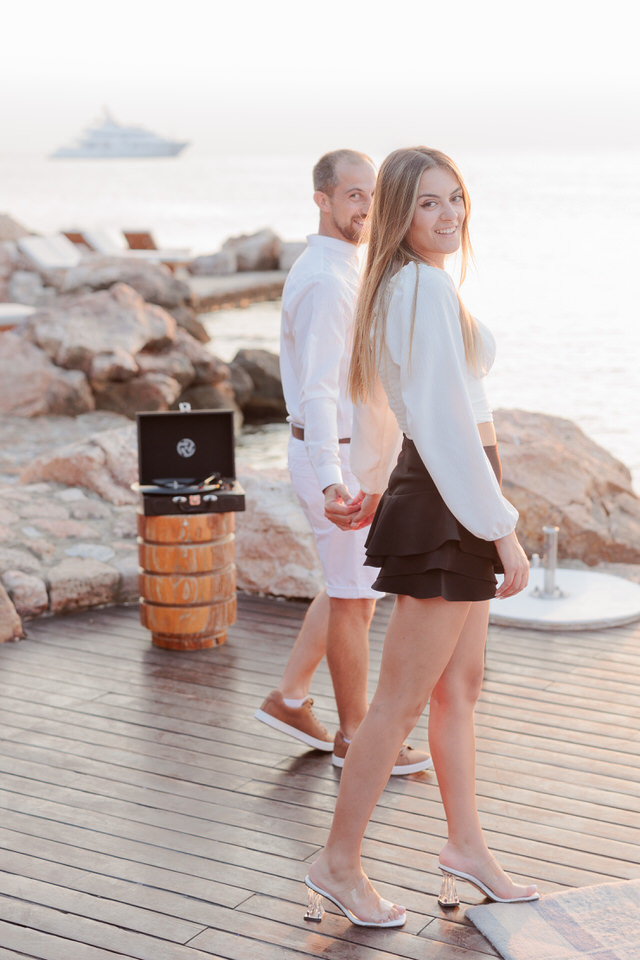 As you can see from the photos, our couple enjoyed it very much.
The bride-to-be could not hide her excitement.
The proposal, engagement ring, and location were +3 reasons to make her say yes-i-do!
A very kind waiter at the nearby table served their chosen menu, accompanied by fine wines.
The highlight was the musical carpet with jazz tunes from a portable vinyl player.
Really what more could someone ask for a spectacular dinner for two in Athens?
While the prices to book, this private area is more than attractive.
The menu starts at 360 euros for two.
It is available from May 1 to October 31.

Make the grandest romantic proposal by arranging a spectacular dinner for two at Astir Palace.
If you want me to be near you for a surprise marriage proposal, an anniversary,
or a destination wedding at Four Seasons Astir Palace, please contact me.
I would love to be a tiny part of your big day.
FOUR SEASONS ASTIR PALACE HOTEL ATHENS
Reservations: +30 210 890 1000