Feel Confident for Your Wedding Photos
5 Ways to feel comfortable on camera at your wedding
Introduction
"You know, I do not feel very comfortable in front of the camera. I'm anxious about my wedding day.
The groom does not want to be photographed in his preparation and generally feels uncomfortable being photographed."
In these cases, I try to help couples as much as I can.
My purpose is to make sure that they feel comfortable photographing in any case.
Because the more comfortable they feel, the more confident they will look and full of confidence.
As a result, their wedding photos are beautiful, dreamy, and full of smiles.
I do not know any couple who wants to look ugly or embarrassed in their photos.
Nor do I think that can happen. On the contrary, we all always want to look beautiful.
Below you will read in detail "5 Ways to feel comfortable on camera at your wedding".
They will benefit those who feel uncomfortable in front of a camera and
those who do not know or are unsure what to do in a photo shoot.
1. Find an excellent photographer
I believe that this is the key to the puzzle and will lead you to a dreamy, stress-free result.
Avoid choosing a photographer who does not have enough experience but a tempting offer.
There are many chances that things will not go as well as you would like.
During the photo shoot, he can give you instructions for some poses.
These may not suit you and maybe entirely photographic wrong.
And when poses are ending, having nothing else to do, he will remain silent & inactive.
Imagine how uncomfortable you will feel and the consequences this will have on the result.
Make sure you find someone who gives you the correct instructions and makes you feel comfortable.
There you will find out if the portfolio couples look a bit uncomfortable, awkward, or in strange poses.
2. Start a dialogue with the wedding photographer
Suggested that the communication be done by phone, skype or by appointment.
This way, you will get to know each other better and see if there is chemistry between you.
If you feel comfortable with him just talking, this is an excellent sign for the future.
If you only stay in an impersonal email or chat, you will not get to know each other.
He must exude confidence and confidence in his work, as well as courtesy.
These elements will calm you down and offer you a dreamy result.
3. Reviews from the wedding photography experience of other couples
It's a different way to find out more about your potential photographer.
See if there are descriptions that mention how comfortable the couples felt with him.
It is imperative if there is enthusiasm, milder reactions, or zero reports.
4. Pre-wedding session
I encourage all my couples to choose a pre-wedding photoshoot.
And the reason is not just to remember what it was like then or to create a wedding wishbook.
It is for you to get to know your photographer better and to connect creatively with him.
You will learn how it works. You will feel more comfortable with it and trust it more.
It is an interaction that we give it time and space to develop.
Precisely the same happens in the preparations of the groom and the bride.
You may not have the time to introduce yourself at the ceremony and get to know each other better.
5. Live it!
If you have chosen an excellent photographer, try to relax.
Do not worry about anything. Photographer will guide you every step of the way.
Enjoy! All these moments are great and unique.
5.1 Spontaneous photos
"You know we do not want "posing" photos, but neither are they completely free!"
This phrase may summarize all of the above.
It shows the reflection and how uncomfortable a couple can feel in the photoshoot.
Things are elementary. I encourage you to proceed to the following five steps.
Look in his real wedding portfolio for smiling faces having a good time.
Read reviews of his work and marriage experience from other couples.
Consider letting them like the colors and the processing it does on the photos.
Talk to him and ask about the available dates and prices.
Close it immediately before another couple catches up with you.
There is no reason to delay it if you have found the "ideal" photographer.
As I usually say to my couples: "If you have my work on my website and you liked it,
then the only thing that should concern you is to really love each other.
Leave the rest to me."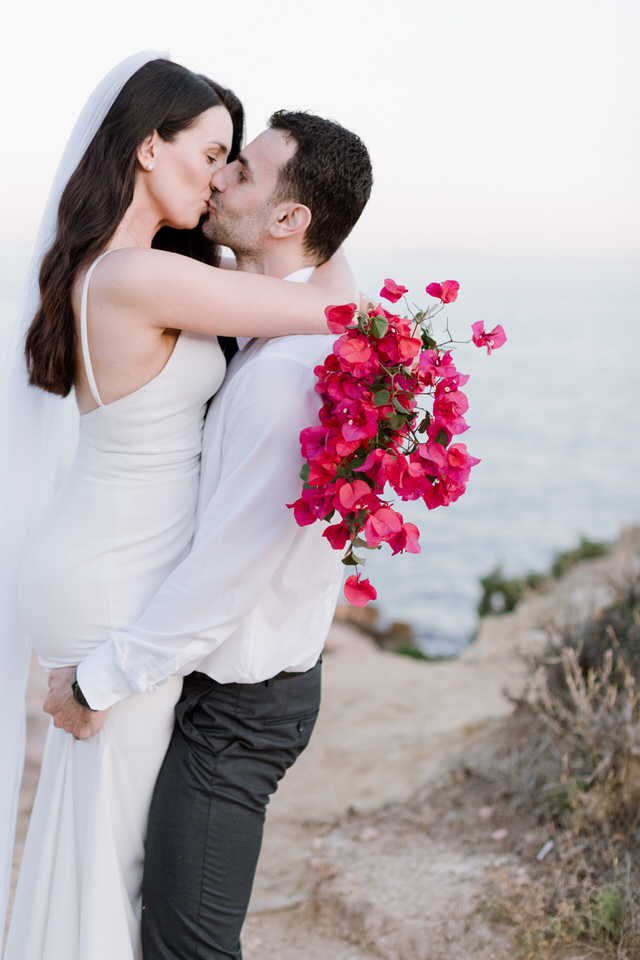 As a destination photographer based in Athens, I will be by your side if you need natural, organic images.
In any case, I will be by your side to help you and answer any questions you may have in the contact form.