Top 9 Greece Wedding Officiants
The 9 Best Wedding Celebrants in Greece
The 9 Best Wedding Celebrants in Greece | Top 9 Greece Wedding Officiants
What is a Celebrant?
Congratulations on your marriage engagement! I wish you all the best!
Now it's time to plan your wedding day.
One of the most important things to decide is who will perform the ceremony.
A priest in the traditional way, a registrar at the city hall,  or a wedding celebrant in your dream location?
So, what is a wedding celebrant?
A person who performs or officiates ceremonies, wedding ceremonies, celebrant vow renewals,
baby naming, symbolic elements, funerals, interments, and memorials.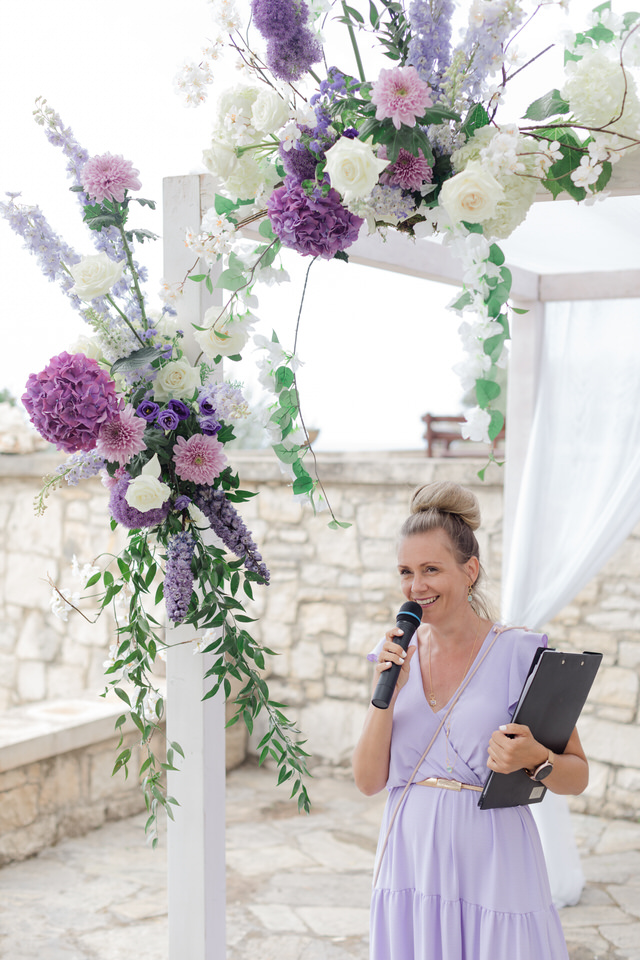 Why would you choose a wedding Celebrant?
Because any official or religious authority does not bind them.
They are free to write words that reflect only you.
Your personality, values, and beliefs.
Every couple is not the same.
They have different stories and backgrounds.
Why must you have the same ceremony as others?
If you have a ceremony written just for you, this will create the ultimate freedom
and a wedding ceremony exactly as you dream of it.
Also, they are more versatile if you want a fantasy-themed wedding ceremony,
or if it is about the two of you, or even if you want to marry your dog!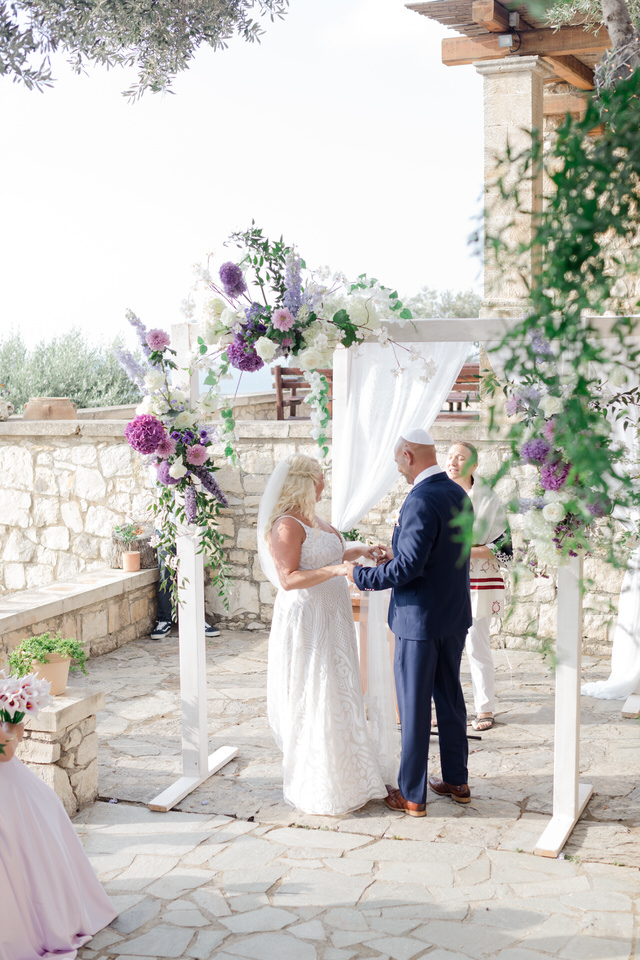 Is the marriage legally binding by a Celebrant?
With one word, no.
The role and certification of a wedding Celebrant can be unclear; they are legally binding.
But that shouldn't be something to stop you from using a Celebrant.
What matters is that your ceremony is everything you and your partner wanted it to be.
With a celebrant, you can specify and tailor your wedding ceremony
until it is the perfect declaration of your love as a couple.
As it's not the ceremony that makes the wedding legal.
Some couples are legally married before the ceremony in their country and make
a destination wedding in the Greek islands, such as Santorini, Crete, Kefalonia, etc., as a principle.
And they use the marriage ceremony more as a celebratory event than anything else.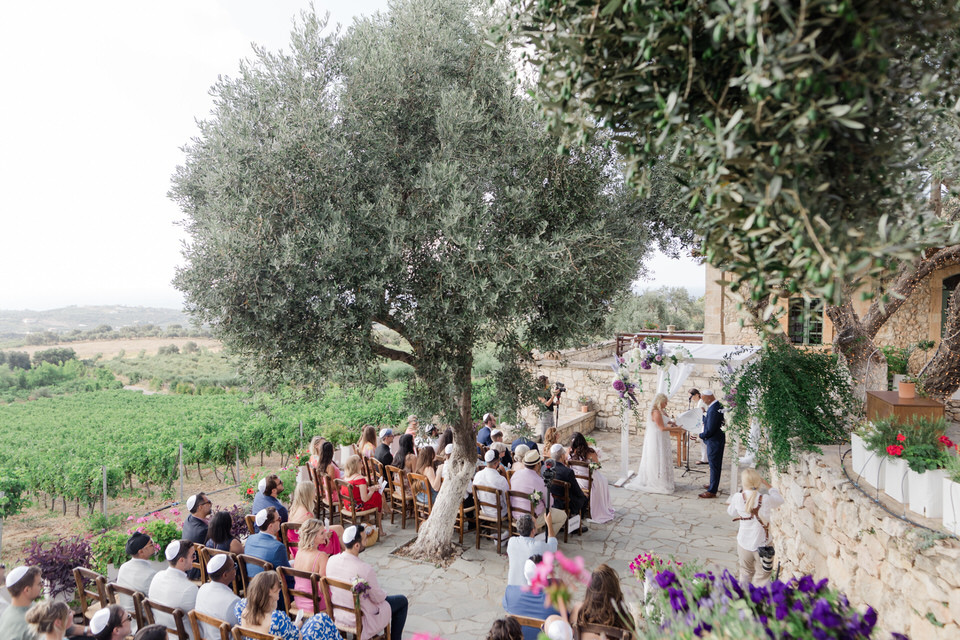 How much does a marriage Celebrant cost in Greece?
A celebrant's fee in Greece ranges from 400 euros to 650 if you're looking for a basic-style ceremony.
But it can vary because not everyone wants to get married similarly.
So they have packages starting at 400 euros to 1500 for a full tailor-made wedding day.
Also, they charge a travel fee if your wedding takes place outside their base working area.
The 9 Best Wedding Celebrants in Greece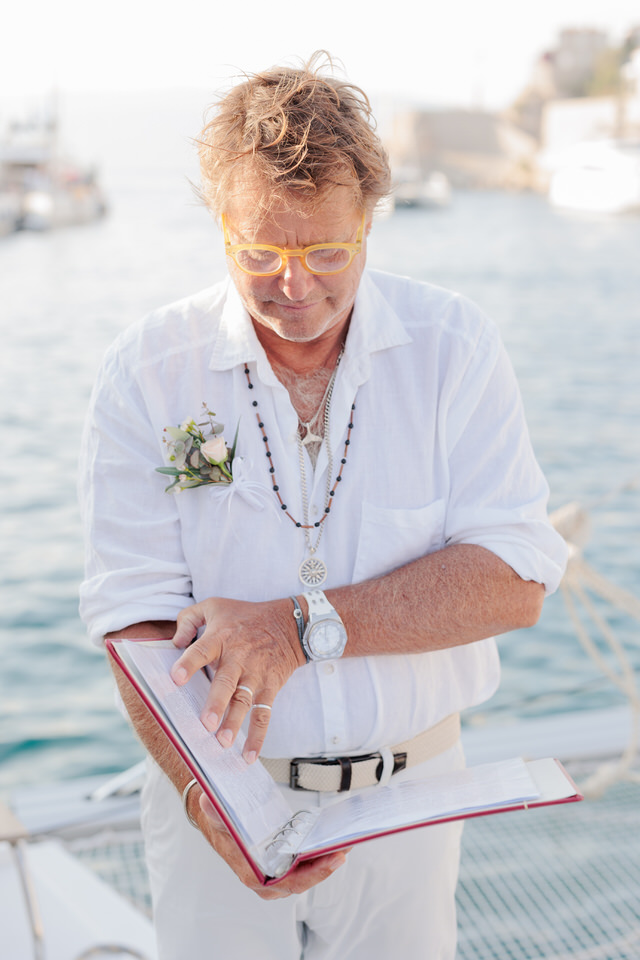 Note – Wedding Photographer in Greece
I am a destination wedding photographer based in Athens, not a celebrant, and I don't have a wedding planning office.
The above post presentation is "The 9 Best Wedding Celebrants in Greece" based on my experience & search.
You must speak to them directly for more information about your wedding details.
However, if you are looking for a destination photographer for your wedding,
i will be thrilled to be a tiny part of your special day.
In the following link, you can see recent weddings all over Greece.
So, if you are planning your destination wedding in Greece,
please email me via the form to inquire about availability pricing or share your story.