Top 15 Places for your Wedding in Europe
Destination Wedding in Europe 7 PROS
From the french riviera to Santoni's caldera view, you can not go wrong with getting married in Europe.
If you love the idea of a destination wedding in Europe, I will share 7 Pros why you should do it.
A destination wedding in Europe should be nothing less of a joyful experience. A European wedding fairytale!
Whenever I travel in Europe, I am just in awe of the locations I see. There is nothing like being in Europe.
1. Accessibility
Getting to European cities has become increasingly accessible and cheap, just a flight or two flights away.
All the major airlines offer round-trip tickets and have become a hassle-free experience.
2. Landscapes
The first reason is that the landscapes of Europe make for absolutely unforgettable memories.
These gorgeous landscapes will photograph beautifully, and you and your guests will never forget them.
If you have never been, now is the time to go for your wedding.
3. Venus
The venues in Europe have so much it's just breathtaking.
You just get captured by the beauty and history of these venues in Europe.
And what a better place to get married somewhere with hundreds and hundreds of years of history.
You would have the photography at these venues like there just can't beat it.
For example, you will never find that unique type of venue that you would find in France, Italy, or the Greek islands.
4. Vacation
When you have a destination wedding in Europe, it is an excuse to have a vacation where you and all of your guests are.
Everybody loves vacations. You can spend five days or even more if you have the time and the budget.
Immerse yourself in your wedding city's local culture and activities.
There's nothing like having an entire vacation around your wedding and being able to spend the time there.
You can plan an entire wedding weekend of activities where you and your guests go on group tours.
Activities together can be enjoyable to spend with all of your guests.
5. Cuisine
Imagine the experience of European cuisine when you are getting married in France or maybe even in Italy or Greece.
Going to a wedding there, you can experience the food having local handmade Italian fresh pasta at a wedding reception.
Or you are being fed a meal of local like authentic gastronomy French cuisine.
Imagine drinking a glass of Santorini Nykteri wine at Fira (caldera view) or Oia at sunset.
Incredibly, it would just be such a dream to experience.
It would be a top reason to get married in Europe.
6. Sunshine
Everyone wants sunshine and good weather at their wedding.
A sunshine guarantee is not realistic unless you're thinking of having a wedding overseas in most places.
Although it does rain in France, Italy, Greece, and Spain, it's much less than the weather in the UK or USA.
7. Budget-friendly
Keep in mind is that it doesn't have to be expensive for a destination wedding in Europe.
And of course, it doesn't have to be 100.000 euros plus adventure.
Some people think it is costly, but it has not been super expensive if you have all the right things.
So if you have a smaller guest count and you consider this a vacation and your honeymoon all in one,
you don't go crazy with wedding decor can do this on a relatively affordable budget.
If you stay for a week or more and combine this as your honeymoon, you can do this without breaking the bank.
You can't invite 300 people, but you can from 5 to 50 or even just ten people.
It doesn't have to be crazy expensive. You could choose to do just the two of you.
So think about having flight tickets, hotels, food, transportation, dress, and your photographer.
You can get away with getting married in Italy or Greece on a budget you can support.
+ Top 15 Places for your Wedding in Europe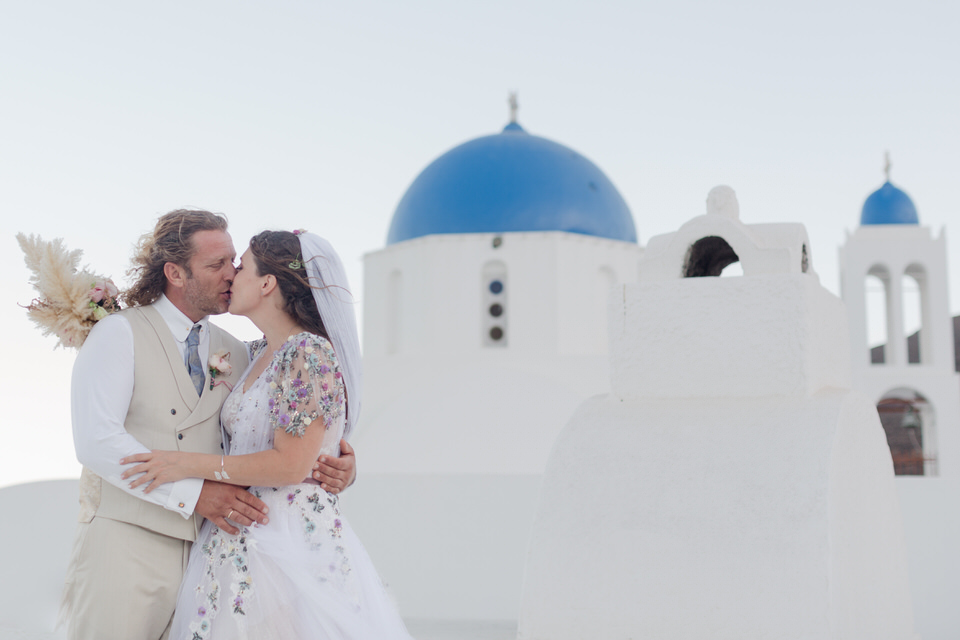 Final Thoughts
I hope this inspired you to start looking into some European wedding venues for your wedding.
Europe is a vast place you have a lot of different beautiful countries to choose for lovely.
Maybe start thinking of the kind of landscapes you want, the type of weather you want,
when you're able to go, your favorite cuisine, and your wedding budget, which might impact where you can go.
Your special day should be nothing less of a pleasant experience.
If you are searching for a destination photographer in Europe, please fill in the inquiry form.
I'm here to answer all your questions and help you enjoy and feel comfortable on your big day!