Legato Violins
Best Wedding Violins in Greece
Best Wedding Violins in Greece | Legato Violins
Close your eyes and imagine a wedding scene in a large church, chapel, town hall or estate.
The bride approaches the groom, the guests looking forward to the bride's entrance.
Now imagine the whole scene with a musical background by two violins. Fairytale!
Indescribable emotions for everyone, as the moments are colored with wonderful melodies.
The intensely charged emotional moments will remain indelible in time.
And enhanced with the soft, elegant and pleasant musical background of the violins.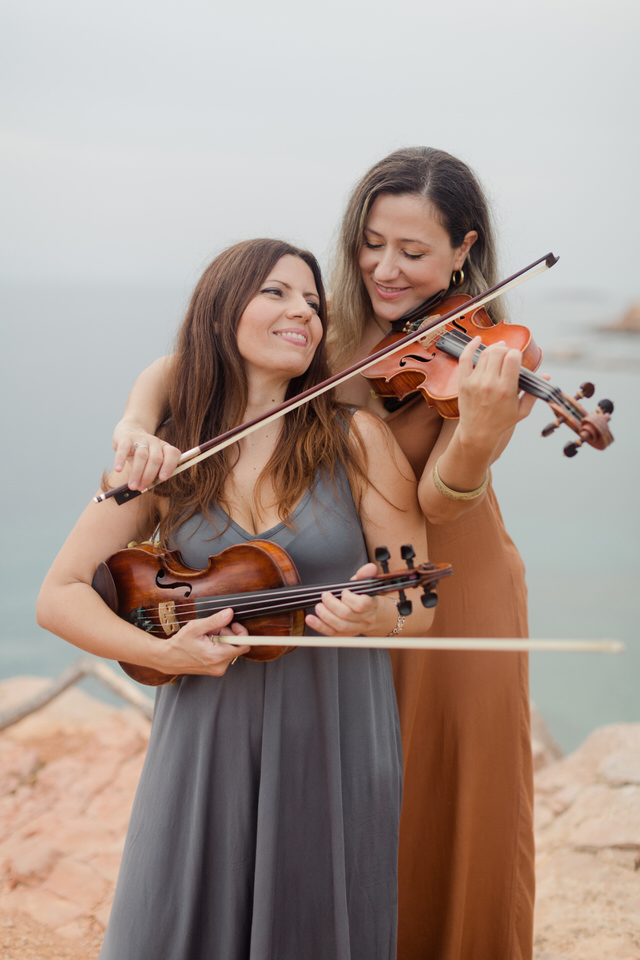 Hello! We are Eleni & Maria and we are the Legato Violins.
Legato in music symbolizes bound or joined notes.
Notes played with one bow for string instruments or with one breath for wind instruments.
For us, legato means the musical collaboration of two violinists with common origins.
A same vision for a perfect and high artistic level music event.
In live music emotions are enhanced and remain in our memory forever.
This is our main goal, to create a beautiful atmosphere with emotions that will remain indelible in time.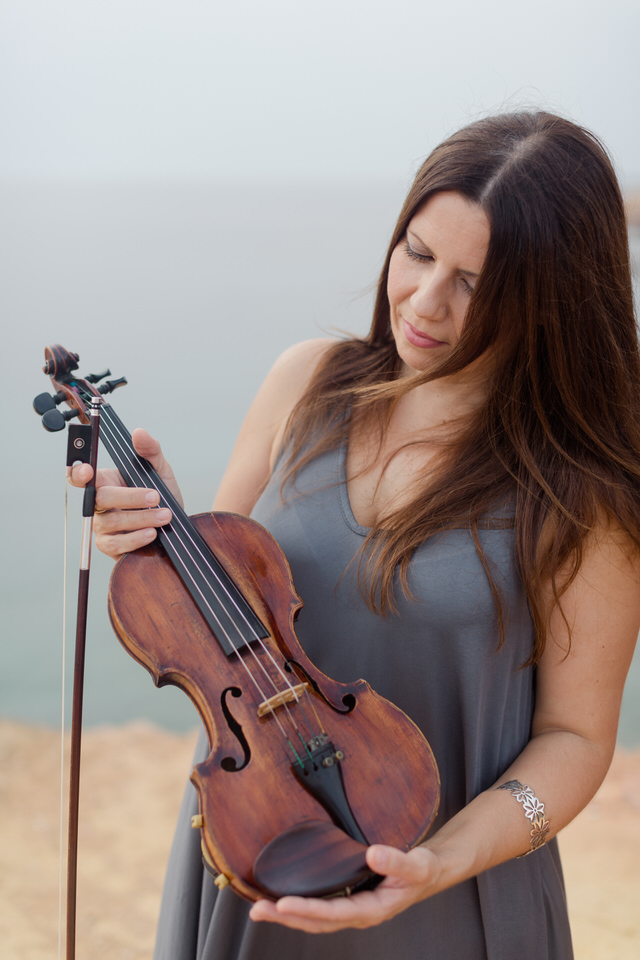 We are both highly skilled violinists, professional musicians and violin teachers at a well-known conservatory in Athens.
Ever since we were students, we participated in joint ensembles.
Then as graduates we played in classical and modern music projects.
However, since 2014, after a proposal to play classical music to welcome guests to a wedding in the picturesque Lake of Evia,
we decided to create this ensemble together, offering a beautiful atmosphere at the events we participate in.
The events we perform include a wide range of activities: wedding ceremonies & proposals, cocktail hour, christenings.
Also, we cover birthday & anniversary parties, dinners, book presentations, openings, receptions of all kinds, private concerts.
After several performances, we realized that wedding events and whatever this may include fit us very well.
This is due to two very important reasons.
Firstly, is because we get in touch with brides and grooms in one of the most important and beautiful moments of their lives.
Through discussion and according to their taste and style, we end up setting up a wonderful performance!
The second reason has to do the nature of music, and even more the sweet sound of violins.
Its importance and necessity in such events.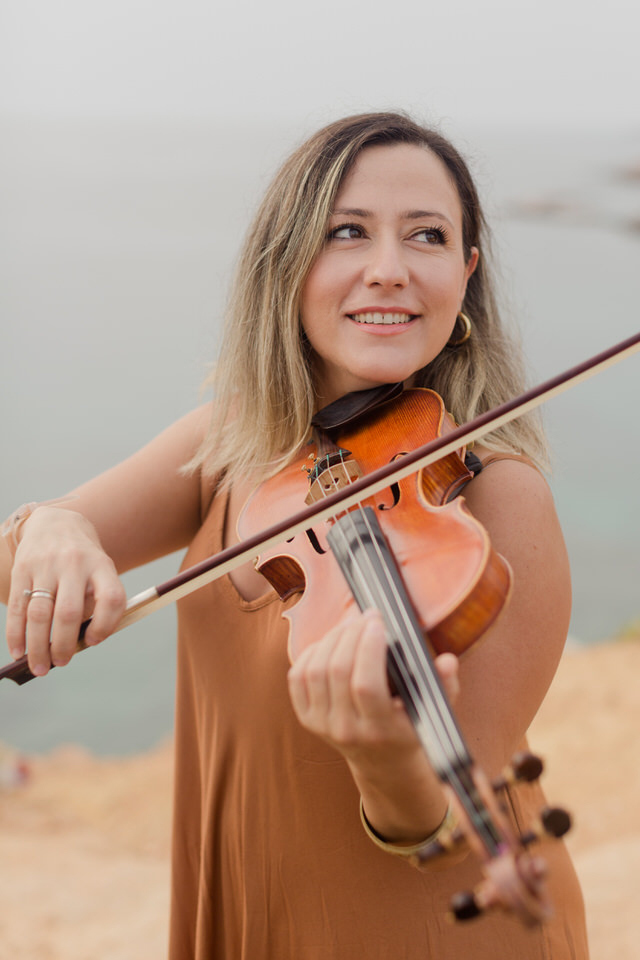 Our musical knowledge and our experience in music events will make your event unforgettable.
Repertoire covers a wide range of pop, jazz, rock, Disney themes, classical, film music, tango, and all modern hits!
Adapted in a unique way by our two violins. Could include for example selections from:
Classical | W. A. Mozart, J. S. Bach, L.V. Beethowen, ​A. Vivaldi, J. Pachebel, L. Boccerini, J. Brahms, R. Strauss, G. Bizet
Soundtrack | Game of thrones, Amelie, Forrest Gump, Moon river, Love story, El professionel, Star Wars
Musical | Cats, La la land, Wizard of Oz, Romeo and Juliet, America, ​Fiddler on the roof, Beauty and the Beast
Contemporary | What a wonderful world, La vie en rose, All of me, ​Fly me to the moon, Despacito, Stand by me
Tango | Por una cabeza, Libertango, El choclo, ​La cumparcita, Besame mucho, Manha de carnaval, Historia de un amor
Greek | Pes mou mia leksi, Lianotragouda, Min rotas ton ourano, Xartino to feggaraki
The selection of pieces is a part of our work in which couples trust us a lot because of our experience.
Of course, there is always a discussion with the couple to find out their background and see what style the wedding is oriented.
Classic, romantic, elegance, modern, and rock in order to adapt the repertoire accordingly.
All communication is based on getting to know the couple and adapting our work to them.
This point, apart from the moment we play our violins of course, is one of our favorite moments.
At this point or a little later it is necessary to define some technical details of our appearance.
Such as clothing, location, playing time, materials we will need such as armless chairs, lighting and sound.
What we always make sure of, before the final day of the event, is that all the details have been set.
So that there is no disturbance on the day of the event and everything goes smoothly.
In this way, we all – the couple, the guests and us – enjoy these beautiful moments.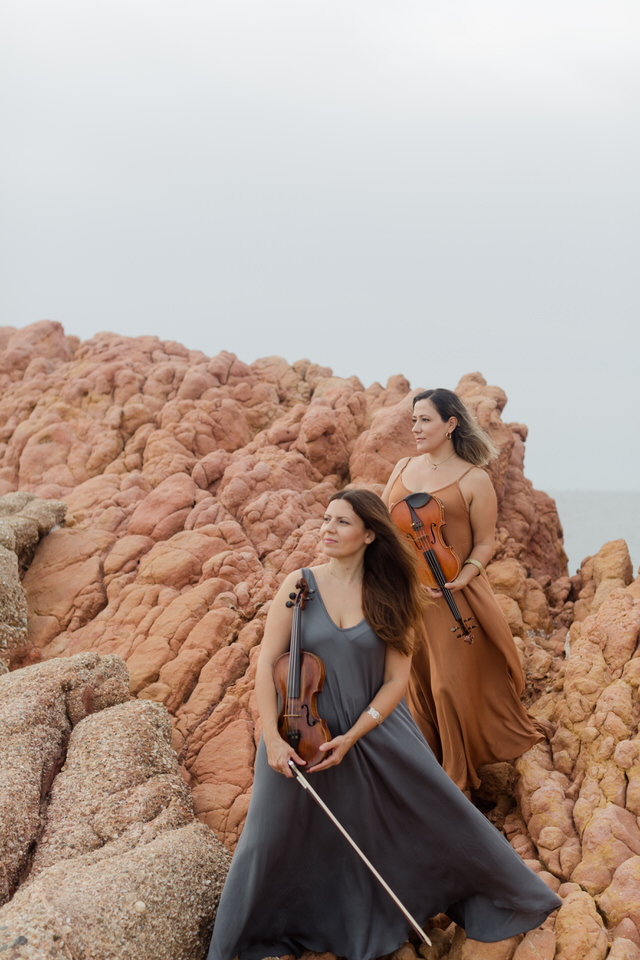 These are our 3 advices for songs, depending on the style of your wedding:
For a rock wedding we propose Viva la vida from Coldplay to rock you!
A romantic wedding needs Perfect from Ed Sheeran to raise the feelings!
For a classic we would suggest Ode to joy of L.W.Bethoween!
For us good music taste, professionalism, planning, elegance and styling, is a state of mind.
As author June Masters Bacher says:
"Love is like a violin,

the music may stop, but the string remains forever"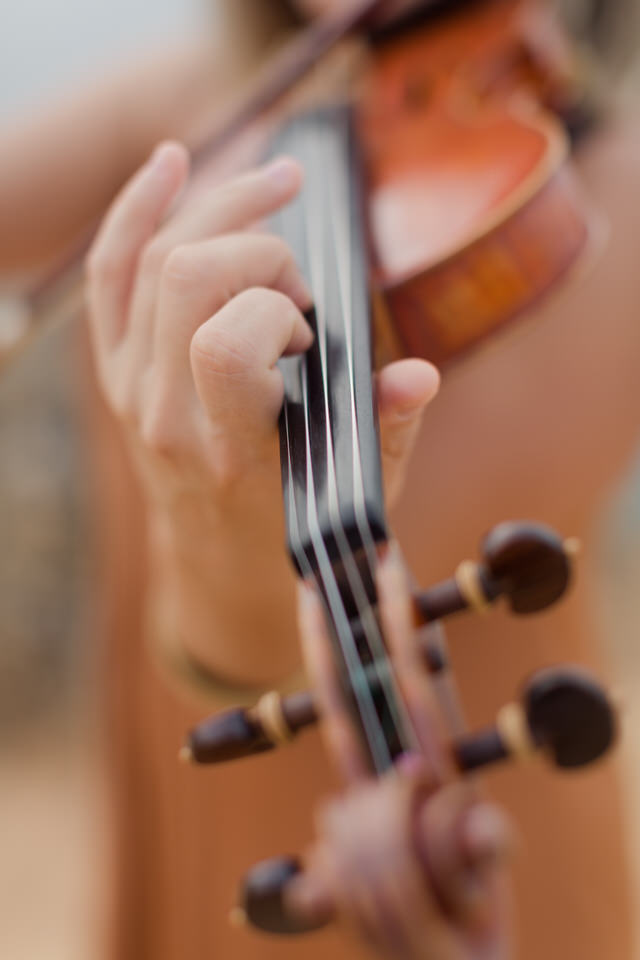 Eleni & Maria | Legato Violins
Sophisticated Musical Instruments by 2 Violinists
Website : www.legatoviolins.gr
Cell : +30 6945218906
Instagram : @legatoviolins
images ignatioskourouvasilis.com