Wedding Don'ts for Brides & Brides-to-Be
5 Big DON'TS for Brides on a Wedding Day
Don'ts for Brides & Brides-to-Be
There are some mistakes that, if you avoid them, will definitely help you,
to get the most out of an amazing experience on your wedding day.
These are mistakes that I have seen happen through my experience as a wedding photographer.
Some of them are quite serious and will have an impact on your psychology as well as your images.
Let's see them all in detail below.
1. Exhaustive Pre-wedding Diets
I fully understand that you want to shine and be as bright as possible.
And of course to fit comfortably in your wedding dress.
But getting into an exhausting diet until the wedding day does not have perfect results.
Υou will be exhausted and weak during the wedding day and in your photos.
It may seem funny, but my wife and I tried it, but we could not stand it and go back to the "hard" reality.
It's nice to lose all the pounds you've gained since we studied.
Try the best for you without resorting to exaggeration.
2. Wedding Dress Fitting
At the last wedding dress fitting at the bridal gown studio, it is good to have a friend with you.
If you have a wedding dress with several peculiarities and ties, you will find this very useful during your preparation.
She learns how to tie quickly and correctly apply the wedding dress to you.
This is extremely useful because you were avoiding mistakes and many "opinions" that day. Stress-free also.
You can also request it as an extra service from the bridal atelier.
3. Bridal Bachelor Party
Brides-to-be usually have a wedding party with the bridesmaids before the wedding day.
Try to have as much fun as you can without drinking or spending too much night.
This way, you will avoid any hangover and fatigue the next day, that of the wedding.
4. Brides: Social Media & Phone Calls
Of course, it is your big day, and you would like to share your joy on your social accounts.
This will save you a lot of valuable time during your day.
Imagine making a "like" to thank your dear friends and acquaintances for what will happen in each post.
You will miss what is happening now.
In the coming days, you will have enough time for them.
Of course, I'm not saying do not post or comment on a friend.
But you know how it works and how addictive it sometimes becomes.
Also, give your phone to a trusted person during the preparation.
Let him guide the guests and the wedding professionals always according to your orders.
This will free you from answering your phone every minute.
Anxiety will drive you away, and your preparation will run more smoothly.
5. Make-up & Hair Mistakes Brides Make
Ιf it is not in your style, avoid huge extra lashes, long hair extensions, and very intense makeup.
Try to highlight your personality and have a beautiful natural result.
A result in which you will be and not one that you will hardly recognize.
For me, the best makeup is one that is discreet and goes unnoticed.
It is also essential to stick to the schedule you have set with your wedding photographer or planner.
If you get away for more than 10 minutes, you will lose valuable time for photos from your portraits or even the first kiss.
Let's say you have set 45 minutes for the above, which are cut due to the makeup process at the end; you will not have pictures.
It will be time to go to the ceremony. Start the whole process a little earlier.
You can also hire an extra makeup & hairstylist artist if your mom or bridesmaids want similar services.
6. Natural Look: Bridal Make-up & Hair
If it is not in your style, avoid too long lashes and long hair extensions.
Like the very intense barbie type makeup.
The result will be far away from you and your personality.
It is a given that in this matter, that you have the first and the last word.
Just because you are a bride does not necessarily mean that you should exaggerate.
As I said, I love natural light and try to get natural, spontaneous reactions.
With this in mind, as a wedding photographer, I suggest the following:
Ask for a natural look. Cover any imperfections by avoiding exaggerations.
The best makeup is the discreet one, and it looks like it does not exist.
7. Stress on the wedding day
The big day has arrived, and you have enough anxiety about how it will be and if everything will go well.
It is completely normal. It is part of the experience on a wedding day. Live it!
In any case, do not try to eliminate it with the "help" of sleeping pills.
I do not think we need to say more about this.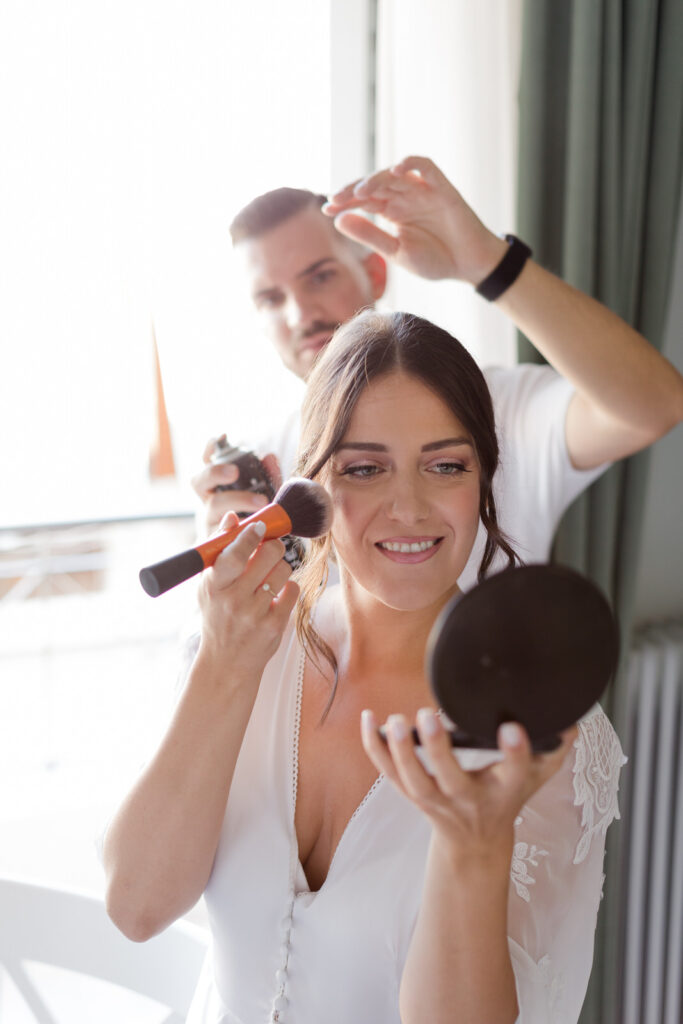 Conclusion
These are my 5 Big DON'TS for Brides on a Wedding Day & Brides-to-Be.
I hope I helped you a little. For everything else, I remain at your disposal.
Here you will find the contact form and my recent works from real weddings.