Photo Booths for rent in Athens
16 TOP Photobooth for weddings in Greece
16 TOP Photobooth for weddings in Greece
Photo Booths for rent in Athens
Photobooth Green or Red?
Today more and more couples choose photo booth services for the wedding reception.
And this is because they have attended a wedding with Photobooth and had lovely moments with their friends.
Also, many ask me if I know anyone specific to suggest to them.
Below you will read why I highly recommend it as a wedding photographer,
what services they can offer, Photobooth wedding rental rates.
I have come across some favorites or would like to see at my couples wedding.
Seven reasons for Photobooth at the wedding
It offers a unique experience to all your guests, young and old.
Almost everyone will go through there for some happy and hilarious photos.
After all, we do not often take pictures with mustaches, huge colored glasses, and so many other props.
The rental rates that you can find wedding photobooth are very affordable.
They start at 250 euros for 2 to 3 hours which is not a prohibitive amount, compared to other expenses.
Of course, it can exceed 700 euros, depending on the type, hours and extra services you choose.
Almost all companies offer a large album, the Guestbook, as an additional service.
There, your guests post the series of photos they like and write their wishes.
Digital copies of  Photobooth photos
Photos can be sent digitally directly to your email or a friend.
Tailored for your wedding
You can choose in addition to an extensive range of ready-made backgrounds or one customized just for you.
It can have a specific theme, size, colors, and write whatever you want.
Covers leisure time with creative activity
I refer to the time after the couple's first dance during the wedding dinner.
The other guests are just waiting until the first tables are ready for dinner at the buffet.
At that time, they usually go to the photobooth to creatively fill their time.
Respectively, the first tables will finish the meal much earlier and wait for the others.
Add to the above the greeting of the couple that can last a long time.
All your guests will have print "type" short film photos.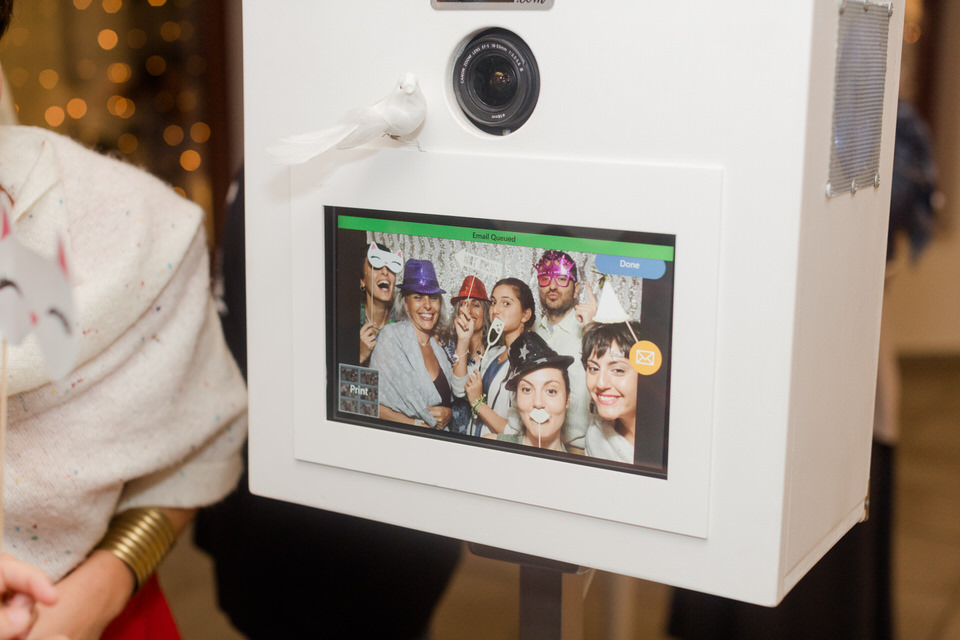 Photobooth for rent in Athens
1. photopartybox (Athens)
2. thebooth (Athens)
3. photoboothfun (Athens)
4. funbooth (Athens)
5. iphotobooth (Athens)
6. onephotobooth (Athens)
7. mirrorboothevents (Athens)
8. snapix (Trikala)
9. gophotobooth (Thessaloniki)
10. ipose (Thessaloniki)
11. magicphoto (Thessaloniki)
12. cretephotobooth (Crete)
13. mrphotobooth (Crete)
14. celebratemirrorbooth (Crete)
15. photoboothink (Crete)
16. onephotobooth (Santorini & Athens)
Final Thoughts
The photo booth at the wedding reception will upgrade the overall wedding experience.
It is a good idea to book your wedding photobooth at least six months in advance.
Please fill out the interest form if you need photo coverage for your Greece destination wedding.
In 24 hours, you will have an offer tailored to your needs and desires.