Hydra Wedding Photographer
Top wedding in Hydra Greece
Top Wedding in Hydra Greece Hydra Wedding Photographer
A wedding on the Greek island of Hydra is considered a dream for many couples.
The island has a unique character that is sure to inspire anyone looking for an extraordinary wedding location.
With its small luxury hotels, beautiful beaches, and private estates, Hydra offers a lot of romantic wedding locations to choose from.
If you're looking for a destination wedding in Greece, Hydra is worth considering.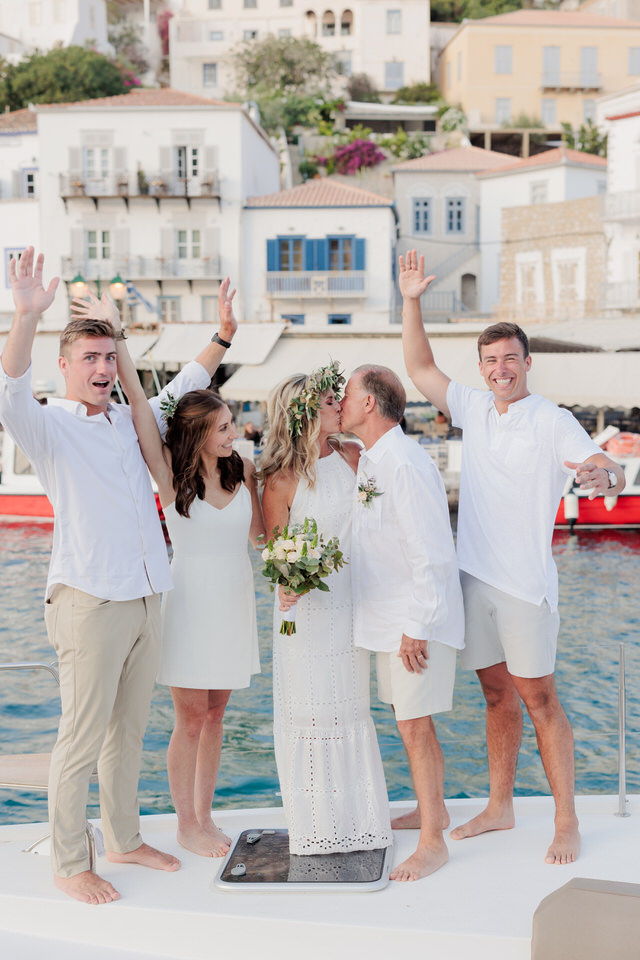 Hydra Island, one of Greece's Saronic Islands, is a stunning destination with natural springs and other attractions.
The island has only one main town, Hydra Port, with around 2,000 people.
Despite its small size, the port remains busy throughout the year and is home
to a crescent-shaped harbor surrounded by shops and galleries that attract locals and tourists.
The island is situated in one of the most beautiful locations and overlooking the crystal waters of the Aegean.
Upon arrival, the island presents an equally magnificent stretch of traditional houses,
a romantic and enchanting location for celebrating a destination wedding in Hydra.
Hydra Island has a sophisticated and jet-set appeal combined with a traditional style that is utterly captivating.
Hydra is less than two hours from Athens and is a popular weekend destination for chic Greeks.
It was once home to musician Leonard Cohen and many other artists who fell in love with this captivating isle.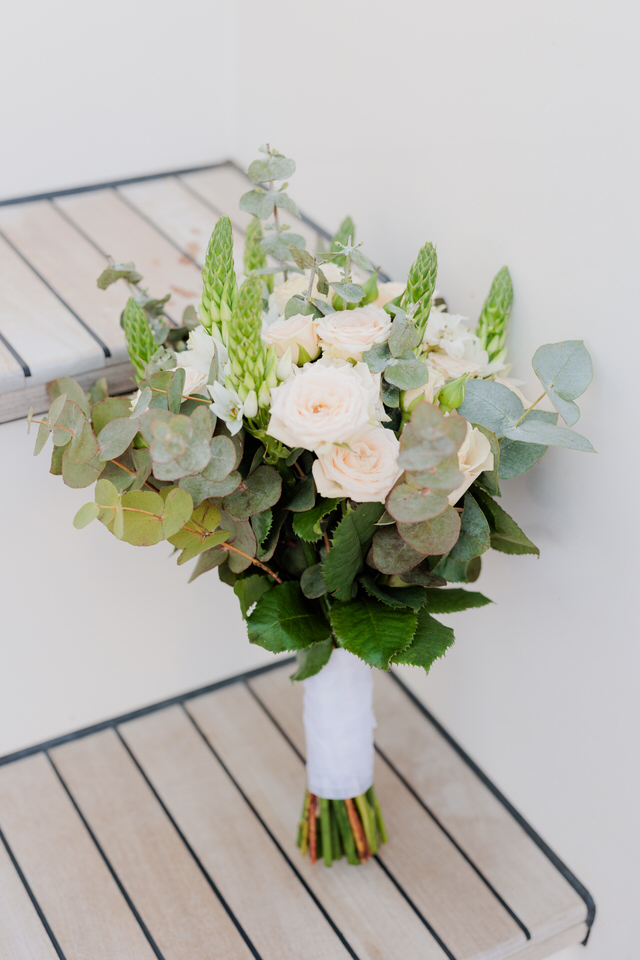 Couples come to disconnect and slow down but also to see and be seen.
Wily cats and weary donkeys patrol the back alleys, but all the action happens along the waterfront.
Hydra is perhaps the most beautiful port village in all of Greece.
The small harbor, filled with boats, is surrounded by cafes, restaurants, gold shops,
and a town of stone houses and mansions that rise the hills like a theater.
Hydra's fine architecture, pebbly beaches, and captivating character make it a popular destination from all over the world.
With its luxurious hotels, bars, restaurants, and shops, Hydra is a perfect place to get married in Greece.
Hydra is the most famous island, yet it remains unspoiled because of limited growth.
While other islands expand outward to accommodate tourism, Hydra has remained the same by not allowing new buildings.
Only the restoration of old ones, many of which date back to the 19th century and are even older.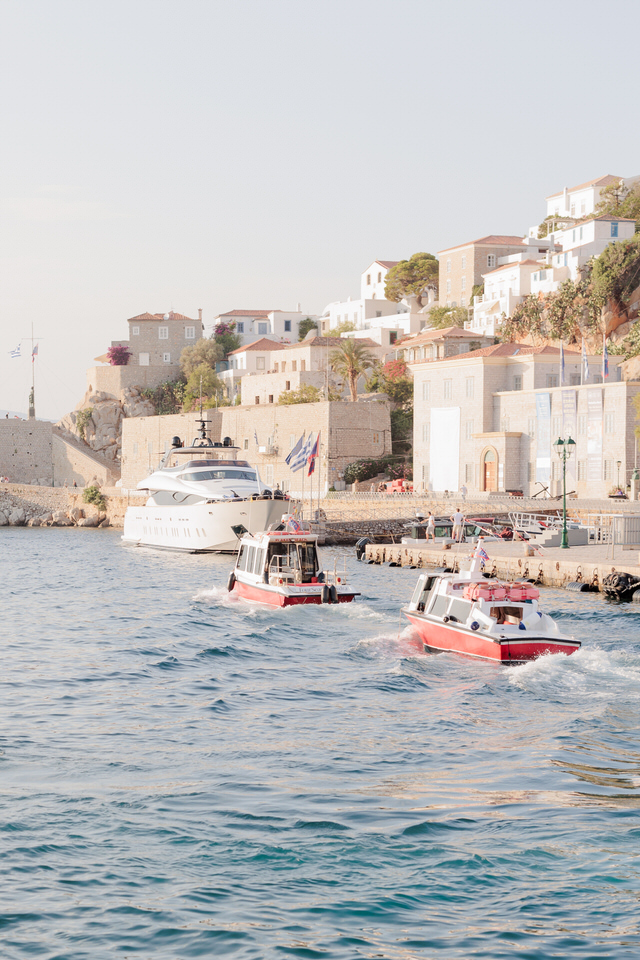 One of the most charming things about Hydra is that there are no cars.
Everything is moved by donkeys, including groceries, building supplies, people, and their luggage.
Upon arriving at Hydra, you will likely notice the donkeys and mules lined up at the port,
Shelley & David traveled from the US to Greece to celebrate their love!
This 7-day amazing trip via catamaran to the Greek islands was an excellent surprise celebration idea.
So, Shelley, 25 years after their honeymoon in Greece, surprised her husband with a renewal marriage ceremony.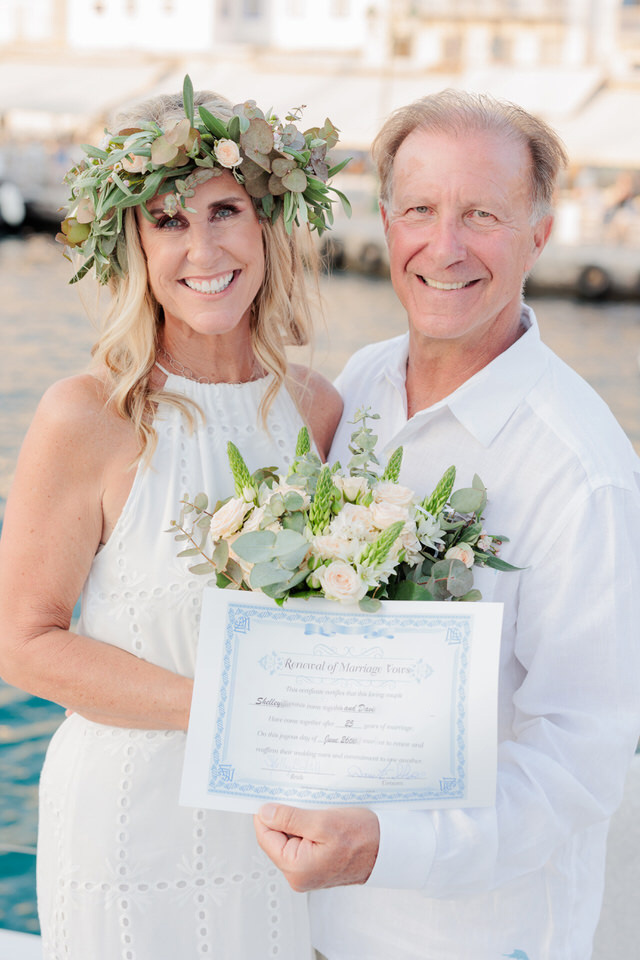 It has been an enormous honor to document their 25th top wedding in Hydra Greece anniversary.
With this act, Shelley & David became a unique example of eternal love for all of us!
They selected the Greek Island Hydra, and this is no accident at all.
Hydra Island will add a charming personality to your wedding and give your guests an unforgettable experience.
If you are looking for a wedding photographer in Hydra to capture the beauty of your wedding day,
and you like my work, I'll be glad to be a part of your big day! Contact me or schedule your call!
Top wedding in Hydra Greece