Frequently Asked Questions Wedding Photography
FAQ Wedding Photographer in Greece
FAQ Wedding Photographer in Greece
Get answers to the frequently often asked questions about your wedding, my services and how i work.
You are more than welcome to answer any other questions you may have and are not here, through the contact form.
FAQ EN | GR
Do you have a legitimate business and insurance?
Yes, absolutely! That protects you from any check by the competent authorities and the hefty fines from 10.500 plus euro. These penalties can be imposed on the couple as employers to an illegal and uninsured employee. If your venue/wedding planner requires a proof, I would be happy to email them a copy for their records.
How do I ask for availability and pricing?
Please fill in the Contact Form to check for availability on your specific date and get a price quote. It's vital to fill it in with as many details as you consider necessary to have the best understanding of what you need for your event.
Do you offer discounts?
I do offer discounts sometimes, but these depend mainly on availability, travel schedule, or the season. So, if you have any budgetary concerns, contact me, and we can discuss everything together.
How long before the event session should we book you?
Although I cannot make predictions about my booking calendar, in general, everything ends in the phrase, the sooner the better!
Can you hold the date?
I'm sorry, but I can't hold a date without a retainer. I accept bookings on a first-come/first-served basis.
Your photos are so sharp and clear. What equipment do you use?
The fact that my photos are sharp and clear is related to my experience and the use of the best equipment. I have invested in the best Canon L and Sigma Art lenses and professional Canon cameras because my work's quality is of the highest priority. All of my cameras and lenses have a backup in the rare event that anything should happen.
I don't particularly appreciate posing for pictures. Do I have to pose like a Next-Top model?
I know what you mean. Posing isn't natural, and I don't think it looks natural either. My style is all about capturing bright, organic, timeless pictures naturally and get genuine reactions.
Will you give us the digital files?
I provide the selected, edited, high-resolution digital files, of which you can make unlimited prints and use them for non-commercial purposes. I do retain the copyright to the images and the right to use them for promotional purposes, competitions, etc. All edited images will be given to you online, which provides easy access from any computer, mobile device, or tablet. Feel free to share it with your family and friends. You will also receive a flash drive with all images.
How many photos will we receive?
The number of photographs taken depends on the Event Session and coverage time. My goal is to deliver beautiful images that tell the story of your event day. For that reason, I will not give you all the photos I take, but only they are meeting my technical and artistic standards. For a wedding day with 8 hours of coverage, you should expect to receive a minimum of 800+ edited images.
How long does it take to get our images?
Depending on my work and event session, it may take from 30 to 90 days.
Are you the only photographer?
When you book your event session with me, you should be 100% sure that it will be me and nobody else you see for the first time in your life. I don't make double bookings or send other photographers to cover your event session. However, I offer the possibility of an additional photographer as an add-on if your event needs (like if you have more than 200 guests and a huge wedding party, or we'll need to travel to several locations on your day, same hour preparations).
Can you arrange the videography for our session?
I can suggest videographers/cinematographers I have worked with, and I trust them.
Do you travel for destination events?
I'm based in Athens, but I'm always more than happy to travel to every corner of the world. The price for destination photography includes coverage fees, plus my travel expenses made known to the client from the very beginning. However, I sometimes choose to make special offers if the event location is an international destination I haven't shot before, and I'd like it to be part of my portfolio. If you are thinking about having a destination event, don't hesitate to contact me to ask about availability and pricing.
Do you offer digital albums?
I offer to do a variety of digitals albums. My design style is minimalist since I prefer to let my photos speak for themselves. Please contact me to send you more info on the album materials I used and samples of album designs to get a better idea. During the album design process, I will send you a preview. Once you approve the layout, we send them for printing. I also offer a free private online proofing gallery for your peaks.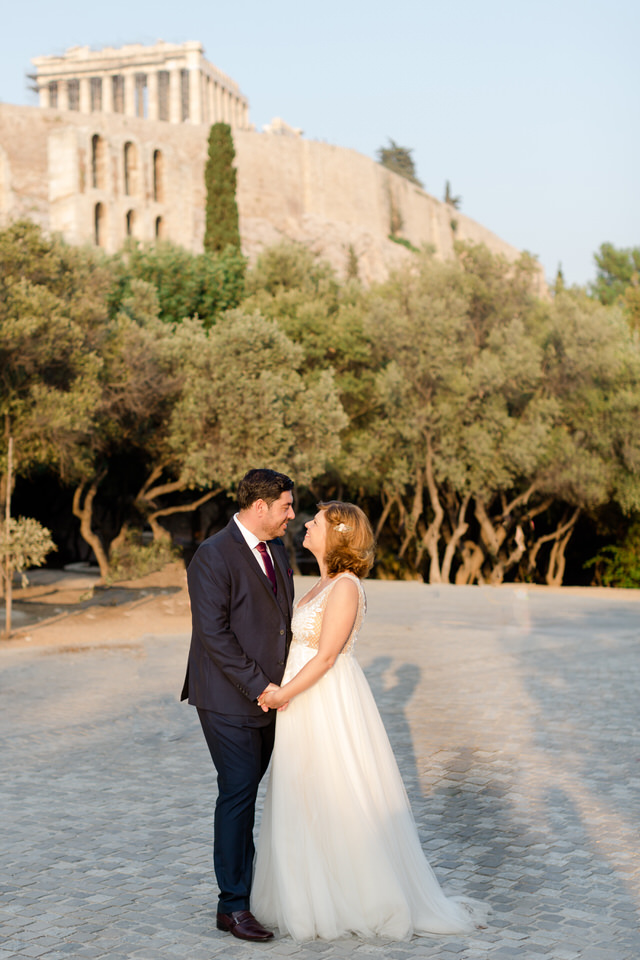 FAQ Wedding Photographer in Greece
So, if you are planning your wedding in Greece, write me an e-mail via the form, or just send me an e-mail directly at info@ignatioskourouvasilis.com to inquire about availability, pricing, or just to share your story.
Here you'll find my latest work. Dig in and get to know me better!