Ignatios Kourouvasilis
Best Greek Wedding Photographers
Best Greek Wedding Photographers Athens Ignatios Kourouvasilis
Greece Wedding Photographer Athens, Athens Wedding Photographer, Greece wedding Photographer,
Wedding Photographers, Ignatios Kourouvasilis, Wedding photography Athens,
Wedding photographer Voula, Vari, Vouliagmeni, Elliniko, Ilioupoli, Argyroupoli, Glyfada, Varkiza
Santorini wedding photographer, Santorini photographer, Photographers in Santorini
Prologue
Perhaps the first priority after the venue ceremony in wedding planning is finding a wedding photographer.
Many couples count many hours of searching on Google for the best with the most affordable prices.
While others get 3 offers from nearby photo studios for photos, videos & albums.
Offers also known as "package". The one with the best price and the most gifts "wins".
Is the above the best or only strategy for you? What should you watch out for?
Let's see everything in detail through the interview given by Ignatios Kourouvasilis,
wedding photographer, in Vasiliki Tsironi, SEO & industrial designer of Unique Styling Blocks.
THE INTERVIEW
Good evening Ignatios, when did you start working in photography?
Good evening dear Vassiliki. Thank you so much for this interview!
I started doing photography in 2015 in photography classes in the Municipality of Alimos.
It was a great opportunity for me to learn what this S&A is in the camera settings.
How did you get started with wedding photography?
It all started with some "street" pictures that a friend had seen on Fb.
She asked me if I could take care of her wedding because she really liked my look.
Something I gladly accepted. It was a challenge for me.
This was followed by seminars specialized in wedding photography by world-class photographers.
While from 2017 begins my collaboration with leading Greek destination wedding photographers.
This collaboration gave me valuable experience at a very high level and premium aesthetics.
I had the opportunity to photograph expensive demanding weddings in the best destinations in Greece.
What drew you to wedding photography and what are its differences?
Honestly what attracted me is the emotion. The moments you experience are truly unique.
It passes through me like electricity and through my lens is transformed into images.
The differences are that it combines many photography applications such as landscape,
documentary, journalist, portrait & macro.
Its characteristic is that everything is done in real-time and you can not say go from the beginning.
You need experience, excellent knowledge of the equipment and very good physical condition.
Why do you think a couple would choose you for their wedding?
Nice question! In a word, I would say about my work. A picture is 1000 words they say.
In the case of a photographer, this could not be without the perfect application.
But the experience of marriage with him also counts. His friendliness, organization, and overall presence.
Do not forget that the couple will spend many hours on the wedding day with the photographer.
One thing I make sure to do is not to set my couples in poses like "Next Top Model".
I prefer the organic natural approach so that we have beautiful natural expressions.
The editing is also "so-so" so that it goes unnoticed and does not start.
Aim for a bright dream result from the moment of shooting.
Also, my offers are very affordable always in relation to the value of the final result.
My couples are very happy and consider that there is a very good "value for money".
In addition, I am available for weddings & baptisms all over Greece, but also abroad.
Especially in destinations that I have not visited and I want them for my portfolio, I make special prices.
What wedding planning tips would you give to young couples?
First, let's talk about finances in relation to a wedding photographer.
We are all looking for the best with the lowest possible price. And this is perfectly normal.
When we have a specific company model we buy it in the cheapest store.
This can come from anywhere in Greece to our home since it will be the same everywhere.
In marriage, although it is the duration and the ritual itself, we are dealing with an art form.
So we have different results because they depend on the look of the artist.
One photographer can be paid 250 euros for a wedding, while another 2500.
Find the one that best suits your style and will be close to your budget.
Start by defining the total budget you have for your wedding.
Many couples do not have something specific at first and this is not right.
After the church looking for the perfect venue with the best possible menu.
So they spend most of their money there and cut the rest.
Cuts that definitely should not be made at least to the photographer.
Do not forget that in the end the photos will be left alone and not the menu in the center.
Make sure all wedding vendors are legal! Especially for the photographer and videographer.
You risk a fine of 10,500 that will be charged to you from hiring them as their employer.
Or look for them in the church or conducting a possible inspection by the competent authorities.
Make sure that the photographer you have booked and seen his work will also come to the event.
Some photos send the first available since they close the same date several times.
They will definitely serve you, but every photographer has a different artistic imprint.
When you ask for a quote from a photographer for the video, be sure to see the work of both.
Wonderful! Would you like to tell us one last thing?
I would like to thank you for the interview.
I wish all couples to have a life full of health, love & happiness!
For anything, they would like to ask me I am always at their disposal. See you again!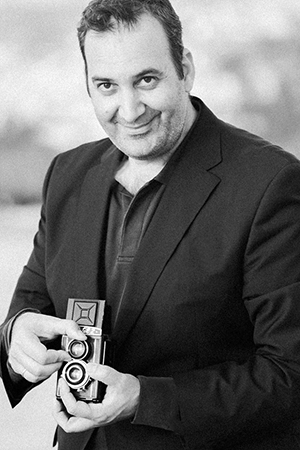 Ignatios Kourouvasilis
Destination Photographer
Cell: +30 6944 24 1940
Mail: info@ignatioskourouvasilis.com